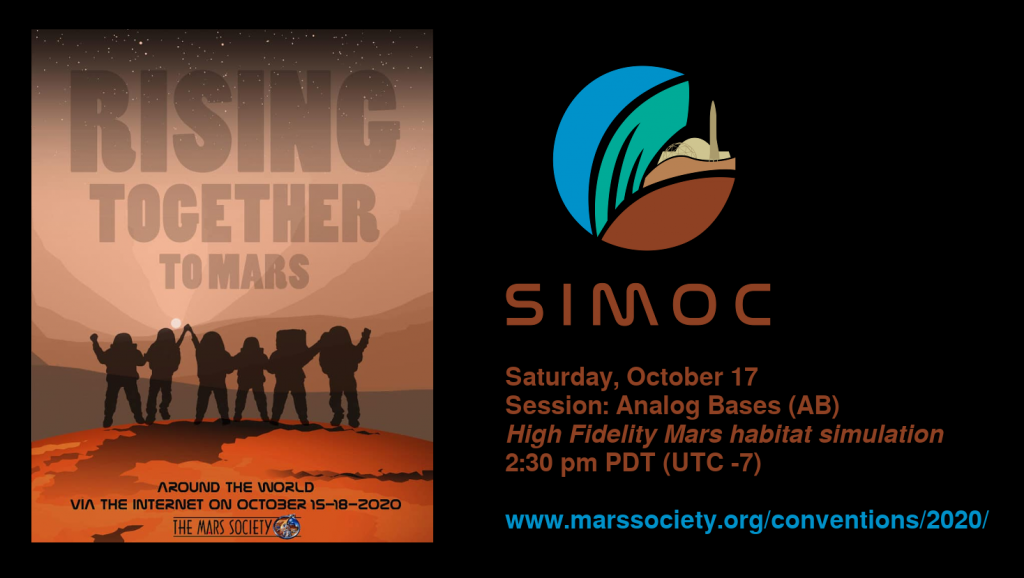 The Mars Society's 23rd Annual International Mars Society Convention will convene Thursday-Sunday, October 15-18, 2020, across this planet via the Internet!
The Mars Society's four-day, international, virtual conference brings together leading scientists, government policymakers, commercial space executives, science journalists and space advocates to discuss the latest scientific and technological developments and challenges related to the human and robotic exploration of Mars and the eventual human settlement of the Red Planet.
Kai Staats will give a talk and live demonstration of SIMOC followed by a unveiling of SAM, a hi-fidelity, hermetically sealed Mars analog being constructed at the iconic Biosphere 2.
Saturday, October 17
2:30 pm PDT (UTC -7)
Session Analog Bases (AB)-4
Staats presentation is available for download (PDF)
Join the convention for free at www.marssociety.org/conventions/2020/