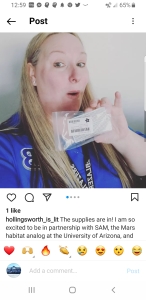 The core SIMOC developers Ezio and Grant have been working with the Arizona State University Computer Science Capstone team to integrate a live data feed from SAM into SIMOC such that both the in-habitat residents (visiting research teams) and visitors to the SIMOC website hosted by National Geographic can in real-time monitor the vital characteristics of the internal SAM atmosphere.
In the process of this effort, each of the ASU team members have received a suite of Adafruit sensors which when connected to a laptop or Raspberry Pi computer are able to capture the CO2, relative humidity, temperature, barometric pressure, and VOC levels.
This effort part of an expansive upgrade to the SIMOC back-end, introducing a new API for live sensor feeds. As such, the SIMOC team reached out to Gretchen Hollingsworth of the Barrow Arts & Sciences Academy, Winder, Georgia who has worked extensively with SIMOC in her classroom. She was jumped at the opportunity to build a microcosm of a Mars habitat analog using a pre-installed, local SIMOC server and identical sensor array to that being tested by the ASU students.
Gretchen has just today received her sensors and posted this Instagram!
"The supplies are in! I am so excited to be in partnership with SAM, the Mars habitat analog at the University of Arizona, and SIMOC! My lit students will be able to employ "writing in the sciences" as they become citizen scientists conducting experiments in monitoring C02, relative humidity, temperature, and pressure levels while monitoring overall air quality to learn about the challenges of human space exploration while confined to small spaces. We will be installing SIMOC and sensor "drivers" on a Raspberry Pi to help us conduct experiments and communicate our results! We'll even throw in some creative writing!"